Automatic number plate recognition (ANPR) is quickly becoming an increasingly popular solution offering organisations effective visitor and car park access management.
Several trends and challenges are driving the popularity of this solution, such as increasing vehicle thefts, security concerns as well as the growing interest in smart parking solutions and automated vehicle identification.
But what exactly is ANPR and how does it work? Can your organisation benefit from installing an ANPR camera on your premises?
In this Nortech guide, you'll learn:
What ANPR is and how the technology works
How ANPR works for vehicle access control
How ANPR works for smart parking
The benefits of ANPR for your business
---
---
What Exactly Is ANPR?
Automatic Number Plate Recognition is a technology that uses optical character recognition to read vehicle registration plates. Initially, ANPR was used by police forces around the world for law enforcement purposes.
However, it soon entered the security market as more and more providers saw the benefits of utilising this solution for applications such as electronic toll collection, parking management and smart parking.
Read Our Report: Key Technologies Shaping Vehicle Access Control (2021 Update)
Its technology was created to help end users queuing at barriers and is an ideal standalone solution for busy sites which require secure automated vehicle identification.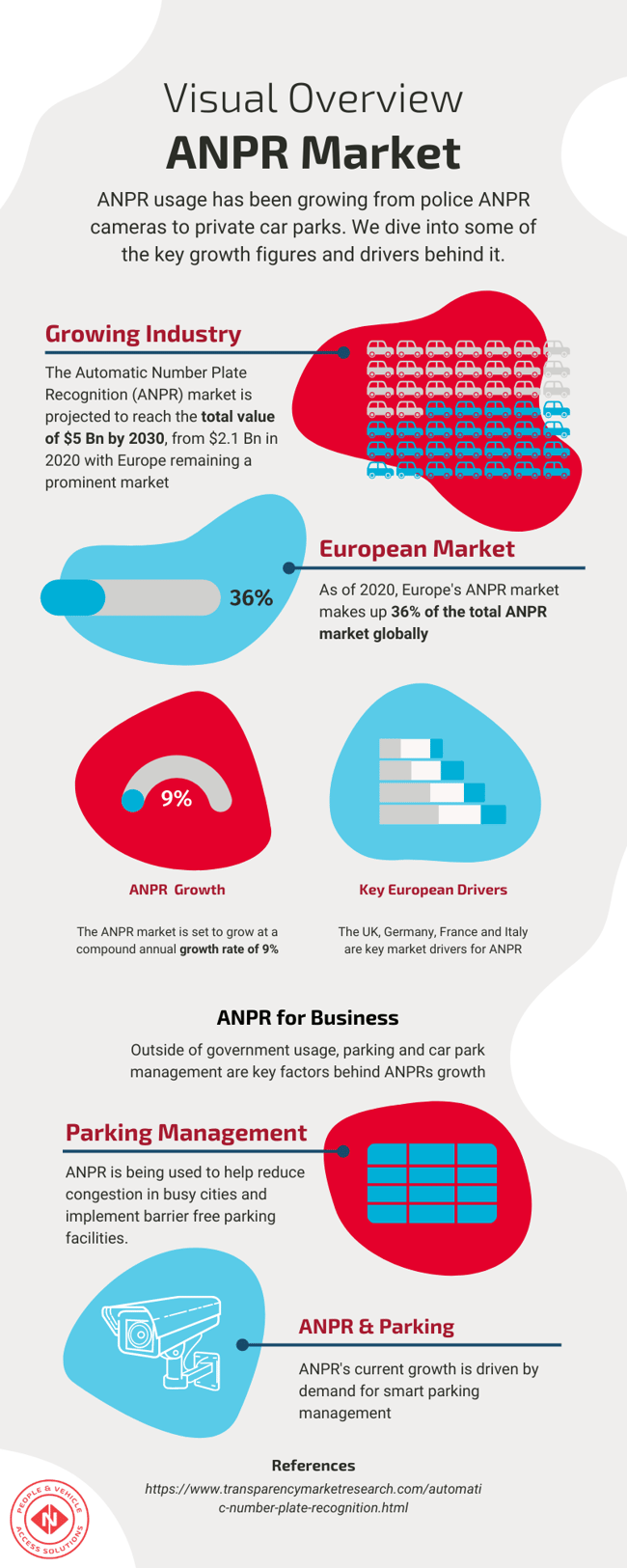 ANPR Technology: How Does It Work?
ANPR is a type of camera that automatically reads vehicle number plates as they approach, allowing these details to be compared against database records.
This camera takes an image of a vehicle number plate, which then is passed on to a reader that locates a vehicle's number and converts valid number plates into standard Wiegand format ID numbers.
This data is then analysed by the access control system which decides whether to allow or deny access to this vehicle. If the access is verified, then the controller sends a signal to the barrier/gate to open.
An ANPR system consists of the following elements:
A high-definition infrared digital camera that illuminates and captures an image of the vehicle's number plate. Some ANPR cameras can even take images at the speed of up to 240km/h.

Computer server with software to process the information.

Wi-Fi, Ethernet or any other forms of the high-speed data network to transmit the vehicle's number to computer software for identifying and verifying an approaching vehicle.

A database of employee's and authorised individuals' number plates.

Barriers, gates etc. as a physical barrier for entering the premises.

Access controller connected to all of the above.
ANPR Application in Vehicle Access Control
ANPR-enabled access control solutions tend to be popular in the following environments:
Airports/ports,
Private / Public car parks
Shared business sites both industrial or office-based
Public services e.g. hospitals, schools, emergency services
Sports complexes and stadiums
Logistic hubs
Gated flats and communities
And generally any application that enables ANPR to increase security and remove the need for tags or proximity cards in vehicles.


Once a vehicle's number plate has been registered in the access control system, it can be used to detect and identify the vehicle as it arrives at the entry barrier and to authorise its entry.

Often, there is also a need to prevent vehicles from entering a car park when it has reached or is approaching its capacity to avoid overcrowding and unsafe parking.
ANPR and Smart Parking
ANPR offers a smart and convenient way to manage your car parking by integrating it with an on-site ticket validation and counting systems.
ANPR-enhanced car parks enable a wide range of parking options, such as maximum stay, permit only, limited free time parking and more.
Other applications within the car park management include parking automation and parking security, ticket-less parking fee management, parking access automation, vehicle location guidance, partially or fully automated payment process.
This integrated approach offers motorists a secure and efficient customer experience, whilst providing security managers with the best return on their investment and improved workflow.
ANPR Benefits for business
Easy Installation
ANPR solutions are fairly easy to install – no specialist equipment needed, and the solution will be ready to use within a few hours.
24-hour Security
ANPR provides automated 24-hour access to secure sites or car parks by entering the relevant vehicle's number plate into the system. When pre-approved vehicles turn up, the barrier will open allowing free-flowing vehicle access in and out of any secure site. Access can equally be removed or revoked at any time.
Therefore, there is no need to have security professionals on-site around the clock, as the system works automatically.
Increased Revenue
This solution provides a great way to maximise car park profit. When vehicles enter the car park, the ANPR camera monitors the registration number which can then to be used to improve the on-site parking experience which will lead to increased profits.

Cutting-edge payment machines can be fully integrated with ANPR data to match vehicle details listed in the database to get rid of manual entry errors.
This provides confidence and an easy-to-use system for the driver, whilst also allowing the owners and security managers to track the duration of the stay along with the ability to identify whether they've paid or not.

ANPR can also support cloud-based pre-book and pre-pay platforms. With this integration, the cameras identify the registered vehicle on entrance and exit, creating an entirely flawless parking environment without the need for on-site payments. This is immensely helpful on highly-congested sites such as hospitals and other healthcare sites.

In addition to that, the customer experience is boosted as it eliminates the hassle of hunting for a payment machine before or after parking. ANPR cameras will do all the work for you.
Health and Safety
ANPR provides a touch-free vehicle access control, meaning that drivers no longer need to physically touch any of the equipment to enter or leave the premises. From the health and safety standpoint, this helps organisations and businesses to prevent the spread of the viruses and make sure that their premises stay as safe as possible.
From the customer experience point of view, this enables ease of access where drivers don't have to waste time entering the PIN on a keypad. This also leads to less congestion and improved visitor flow. So, it's a win-win situation.
No Tags Needed
For organisations where vehicle tags aren't an option, ANPR system costs tend to be lower as it still offers long-range automated vehicle access without the need to purchase tags for each vehicle.