Deciding on the best access control software for your specific security application can lead to some tough decisions.
It's commonplace now to be presented with a vast range of different options to choose from, each with its own set of bells and whistles.
On top of that, choosing the right card access control software can make life a lot easier before, during (through setup help) and after (advanced reporting and features) the installation.
In this guide, we'll look at how Norpass compares to industry standard access security software. We'll cover:
A brief introduction to access control software and Norpass
The key differences between Norpass and other door access control software
Pro's and drawbacks of free access control software
In a rush? A summary of the comparison can be seen below, click the button to download your free PDF version: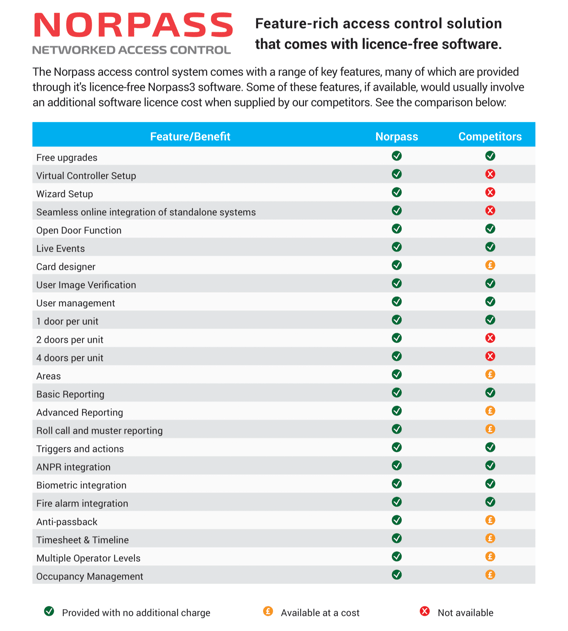 What is Access Control Software?
Starting with the basics, access control software allows operators to control who has access to each of their premises.
The central software allows an operator to monitor and control the access system with an extensive range of features.
Standard features usually allow an operator to pre-determine the specific doors a user has access to and the times they can use them, with the ability to set specific rules for each access control point.
Some of the other key features an access control software might have include:
Assisted set-up
Real time system management and event logging
Multiple client support
Individual user activity history display
Remote, individual door override
Door monitoring and alarming
Time and Attendance reporting
Configurable access levels & time periods
Visitor management features
As a pivotal part of any door access control system, it's important to choose the best access control software for your specific needs.
What is Norpass?
Norpass is a user-friendly PC-based access management system that provides all of the basic and advanced features mentioned above.
Managed by intuitive card and device access control software, Norpass gives the operator an extensive range of features with capacity to manage 1, 2 or 4 doors plus a choice of different communication interfaces.
Some of the more advanced features of Norpass include:
Card format configuration
Occupancy management capability
Timed anti-passback option per door
Badge design and printing tool
Multiple operator levels
Enforcement of limited usage of controlled areas
These additional features built on top of the industry standard features is what has made Norpass one of the best free access control software options around today.
Norpass vs. Competitor Access Control Software: The 5 Key Differences
Pricing
There are plenty of access control software options, with a mix of free and paid solutions available.
It's important to know whether the free access software options are truly no cost, with a lot of added features (visitor management, advanced reporting etc.) only being available after an upgrade purchase.
Norpass access control management software is completely free, and is available as a download on any standard specification PC.
Setup
Norpass offers a fast, wizard-assisted system set-up to save configuration time and access installation costs.
Advanced paid options typically offer a similar setup process either as a PC wizard or app configuration. For other free access control software options, the configuration is sometimes charged as an added service by the company.
Reporting
The level of reporting changes with each access software, with most covering the basic reports such as user management, denied access and door activity reports.
Some of the reports provided by Norpass at no additional upgrade include:
Time and attendance reporting
Visitor access reports
Occupancy management reports
Configurable report generation via the powerful database sort and filter functions
Integrated vehicle and people access
Nortech's personnel and vehicle access control experience combined with it's vehicle technology partnerships take the mystery out of integrated access control.
This opens the opportunity to integrate from the car park (ANPR or long-range readers) through to the building access control.
Advanced Features
Norpass has integrated some unique advanced features into its free access security software to suit certain applications.
Some of these features, such as the card designer functionality, are built to improve the level of control the operator has over their access control system.
Others features, such as the ability to manage 4 doors per unit, come as part of Nortech's network access control.
Norpass vs Competitor Access Control Software: Summary
As you can see from the differences between both Norparc and industry standard access control software, each holds different properties that are suited to a range of access control environments.
Norpass is one of the best free access control software options available, due to its ease of use, functionality and advanced reporting that would normally come as part of a software license fee or upgrade cost.
On the other hand, high-end paid access control software is more suited to enterprise environments with lots of different moving parts and custom integrations (CCTV, mobile applications etc.).
If you'd like to learn more about what level of functionality you need, contact our Nortech team to find out more.