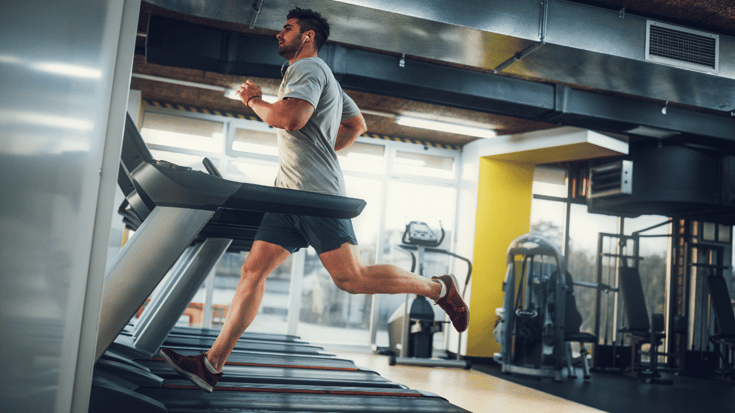 For many people gym is a sacred place where one can forget his worries of the day, relieve stress and connect with likeminded people. In order to provide this safe haven for fitness enthusiasts, gyms have to foster a safe and secure environment – it's hard to relax and reduce stress, when you're worried that someone is going to steal something from your locker.
Gyms have a requirement to protect its members, equipment and profits, which can be done by implementing a robust access control solution. On top of that, it's also important to consider user experience and make sure that the ease of access isn't being compromised.
In this article, we will take a look at how gyms can enhance member experience, boost security and protect their profits – all by implementing the right access control system.
What Is Gym Access Control?
Gym access control is a system that provides a secure and convenient way to manage access to the gym facility, control access points, and track gym attendance. There are various options available on the market, but in general these systems consist of a reader, ID tag/card, and turnstile/barrier systems.
Access control secures the premises, prevents theft, and reduces the waiting times for members and visitors, allowing them more time to enjoy the facilities.
However, the right access control solution doesn't just manage physical security, it also provides an opportunity for gym owners to make sense of how their spaces are used, how many people are in the gym at a given time, and how long each member spends in their gym.
Data provided by access control can help gym owners and managers to improve their services, offers and promotions. It will also direct gym owners to most lucrative gym areas, or time slots that could be used better (e.g. providing a discount for off-peak times).
Now, let's take a closer look at the key benefits of gym access control, both from security and health and safety point of view.
Prevent Tailgating
Tailgating is one of the biggest issues faced by gyms, especially those operating at a 24/7 basis with unmanned reception areas. If the access point isn't properly secured, members are more likely to try to sneak their friends in for free.
Make Your Entrance COVID-secure
As the gyms are opening their doors, it's time to start thinking proactively and make sure that everything is put in place to make the environment COVID-secure. Most viruses spread from person to person through droplets that float around when someone coughs or sneezes. These tiny droplets can then transition through the air from sick person to other people nearby.
But there is also other, less direct way people get infected. Germs can also be passed on when people touch surfaces like pin pads and other people's access cards or badges.
This is even more dangerous, as viruses can live for over 24 hours on plastic and metal surfaces, so it only takes one carrier or one infected person to potentially spread the virus to everyone who enters through the door. Hence, the busier the facility, the higher the risk. The right access control solution can help minimise this risk and help protect both staff members and gym goers.
As access control technology continues to evolve, there are more solutions entering the market that helps organisations to be more proactive with their security initiatives. For example, implementing a hands-free access control can minimise the risk of spreading the virus.
Reduce Theft
One of the security issues that keeps coming up is theft – money, phones or other valuables being stolen from the lockers. By reducing the need for members to carry money on them all the time, gyms can reduce theft and make their environment safer and more secure.
This can be achieved with wristbands that could be worn around the gym or in the pool. These wristbands can also act as a form of payment for any beverages or snacks available on site.
Track the Number of Members On-Site
Access control solutions go beyond granting access to the secured area – it can also be used to monitor how many people are on-site at a given time. During these uncertain times, gyms have to come back slowly and limit the number of members allowed on-site.
Access control reports can give gyms the data needed to plan and adjust their strategy for making the site more secure and safe for the members.
Improving Visitor Flow
When the access point is too slow or complicated, it can lead to queues at the entrance and exit points. This can be an issue from both user experience and health risk point of view.
No one likes to wait in the queue, and it's even more the case with gym members that squeeze gym time into their already busy days, so every minute is crucial for member satisfaction. If members are unhappy with the premises, they are more likely to move on to another gym.
Crowded entrances are also a health risk factor, especially when there is not enough space to keep 2m distance.
To combat this, access control for visitors has to enable hassle free, quick entrance to the premises. Therefore, technologies like PIN pads aren't the best solution, as it takes time to enter the code. On top of that, it's very easy to forget the code, which can only lead to further frustration. Again, hands-free access control solutions are the best way to go as they simplify the whole process and make the visitor flow as flawless as possible,
Summary
As you can see, access control is more than just authenticating and granting access to the gym, it's an essential feature for gyms' safety and security. By selecting the right access control for your specific environment, you are preventing common issues faced by gyms and leisure centres, whilst also future-proofing your business and making it a safe haven for your members where they can be sure that the gym they are at is fully COVID-secure.